Stepping Up: Become an Effective Title IX Advisor
Level I: Title IX Advisor Training
Join our Title IX experts as they leverage their experiences to teach you what to expect as an Advisor, critical steps of the Title IX grievance process, as well as how to support your party through a trauma-informed lens.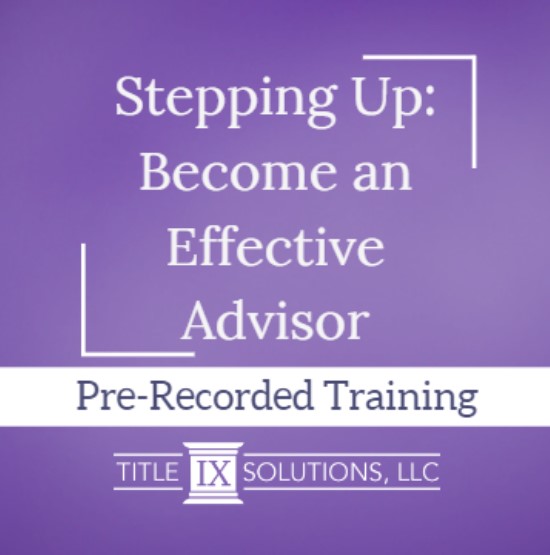 Join our experts to learn strategies for addressing the specific challenges you may face while serving as an Advisor. Regardless of your background or familiarity with Title IX, this course will be useful for you. 
Throughout the course, Title IX experts, Advisors, Investigators, Decision-Makers, and Informal Resolution Facilitators leverage their experiences to teach you what to expect and how to participate in every step of the Title IX Grievance Process. 
Gain an understanding of the Title IX Grievance Process, including reporting, investigation, and hearing processes
Gain an understanding of the Advisor's role throughout the Title IX Grievance Process
Learn strategies for effectively supporting Complainants & Respondents during the Title IX Grievance Process
Session One: Introduction to Title IX
To navigate the Title IX Grievance Process, Advisors must understand the foundational elements of Title IX. In this module, Title IX experts Patrick B. Mathis and Emma Davis address common questions such as: "What is Title IX?" "Who is involved in the Title IX Process?" and "What is sexual harassment under Title IX?" Emma and Pat also outline the steps of the Title IX Grievance Process and explain key terminology relevant to the process.
Session Two: Role of the Advisor in the Title IX Grievance Process
Advisors play a unique role in the Title IX Grievance Process, and in this module Title IX experts Patrick B. Mathis and Emma Davis explain what that role will likely entail when advising a Complainant or Respondent. Emma and Pat first share their Top 5 Tips for preparing to participate in the Title IX process. They then provide an in-depth explanation of every step of the Title IX Grievance Process, including investigation procedures, hearings and cross-examination, determinations of responsibility, appeals, and informal resolution options. Emma and Pat also explain how and why an Advisor will participate during each step of the Title IX process and share tips for effectively serving your Party as a Title IX Advisor.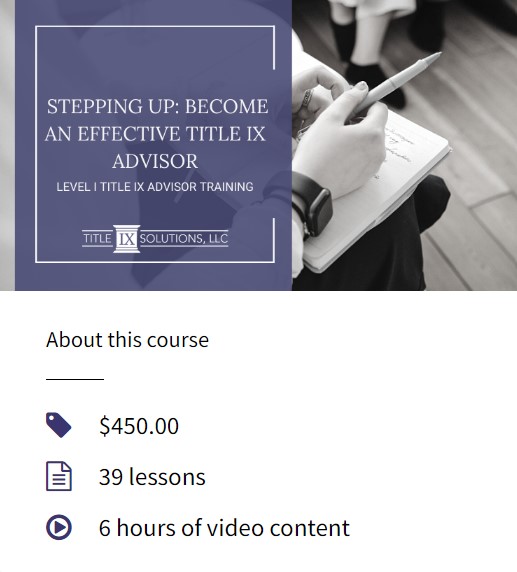 Session Three: FAQ with Professional Title IX Advisors
Professional Title IX Advisors and experienced Title IX Invesitgators Susanna Murphy and Elizabeth Abdnour leverage their own experiences to answer commonly asked questions about the Title IX Grievance Process. They also discuss their responses to particularly challenging situations that may arise for Title IX Advisors. Finally, as career attorneys, Liz and Susanna share their perspectives on the difference between serving as a Title IX Advisor and attorney for a Party.
Session Four: Providing Trauma-Informed Support as an Advisor
In Title IX cases, providing emotional support to a Party can be just as important for the Title IX Advisor as providing procedural support. Therefore, in this module licensed psychologist Dr. Jessica Groleau provides an overview of trauma as well as strategies for building rapport with Parties to minimize trauma experienced during the Title IX Grievance Process. Dr. Groleau also explains recognizing personal bias, trauma-informed communication, and promoting empowerment.
Session Five: Title IX Hearings – Expert Analysis
Title IX Hearings can be stressful for Parties and their Advisors, often because the Hearing Process contains many procedures that are unfamiliar in a school environment. To address this issue, in this module professional Decision-Makers Kenneth M. Chackes and Judge Michael Jamison thoroughly explain what to expect during the Hearing Process. In addition to sharing best practices, they also explain how to review the Investigative Report, craft cross-examination questions, understand relevance, and prepare to effectively participate in the Title IX Hearing.
Session Six: Informal Resolution Processes – Expert Analysis
Informal Resolution may be an option for your Party, and it is important to understand the Advisor's role during this process. In this module, professional Informal-Resolution Facilitators James W. Reeves and Kim L. Kirn first introduce various forms of informal resolution such as mediation, arbitration, and restorative justice. They then explain what to expect; how to prepare your Party; and the Advisor's role before, during, and after the Informal Resolution Process.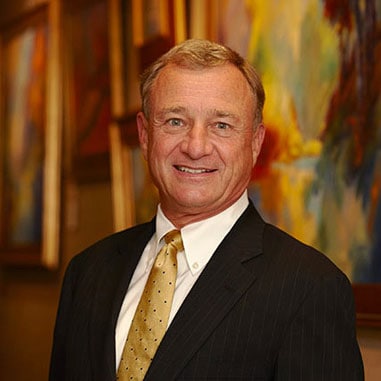 PATRICK B. MATHIS, J.D., L.L.M., M.B.A. | Founding Member
With over 30 years of legal experience, Patrick Mathis is a Founding Member of TIXS as well as a shareholder of Mathis, Marifian & Richter, Ltd. (MM&R), a law firm based in Southern Illinois and St. Louis, Missouri. As a certified Title IX investigator, Patrick has advised clients on a wide variety of legal issues, he has a developed awareness of the broad implications of incidents which may affect victims, alleged assailants, and educational institutions. With that understanding, he can work with colleges, Title IX Coordinators, school counsel, and TIXS investigators to develop a comprehensive understanding and approach to addressing the issues which arise in incidents of alleged sexual assaults to ensure prompt and equitable resolutions. Patrick also coordinates the training of our investigators regarding the legal aspects of Title IX, DOE guidelines, state law issues, and related areas. He is a training instructor for TIXS, specializing in the Title IX Regulations, compliance, and issues related to sexual assault affecting students studying abroad. On June 10, 2021, Mr. Mathis submitted oral public comments to the United States Department of Education at the Office of Civil Rights Public Hearing Regarding Current Title IX Regulations.
ELIZABETH ABDNOUR | Investigator & Advisor
Elizabeth (Liz) Abdnour is an experienced civil rights and employment attorney. She represents students and provides investigative, consulting, and training services to educational institutions, groups, and nonprofits of all sizes. After a career in legal services, where she learned how to advocate for underserved clients from a trauma-informed perspective and supervised a law school practice clinic, Liz transitioned into higher education where she spent three years in the civil rights office at a land grant university. Liz then opened her own law and consulting practice where she now serves both individual and institutional clients. The combination of Liz's legal experience and her years as an investigator and equity coordinator give her unparalleled expertise regarding educational institutions' obligations with respect to civil rights and Title IX response.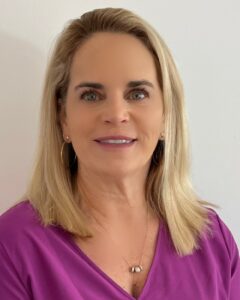 SUSANNA MURPHY, ESQ. | Advisor & Investigator
Susanna Murphy began her work as an independent Title IX advisor and investigator after 20 years of legal experience, first as a trial attorney and then as an investigator, in the criminal justice system. Susanna serves as an advisor for both complainants and respondents, as well as an independent investigator. She also has testified as an expert witness on Title IX investigations and provided educational prevention programming to private secondary schools and college and university organizations. Throughout her career, Susanna has put respect, discretion, objectivity, attention to detail and professionalism as her top priorities in every Title IX case. She is mindful of the sensitive nature of these kinds of allegations and is skilled at making parties and witnesses as comfortable as possible while discussing topics of a very sensitive nature.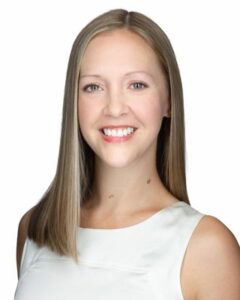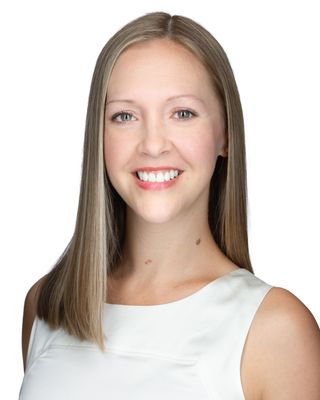 JESSICA GROLEAU, Ph.D. | Licensed Clinical Psychologist
Dr. Groleau earned a Ph.D. in Clinical Health Psychology from the University of North Carolina at Charlotte, and joined the Center for Student Health and Well-Being at Davidson College in 2019. She has conducted research on the impact of trauma in college students, with an emphasis on positive psychology and post-traumatic growth. Her clinical interests include young adult development, working with survivors of sexual abuse and intimate partner violence, LGBTQ issues, relationship concerns, and anxiety.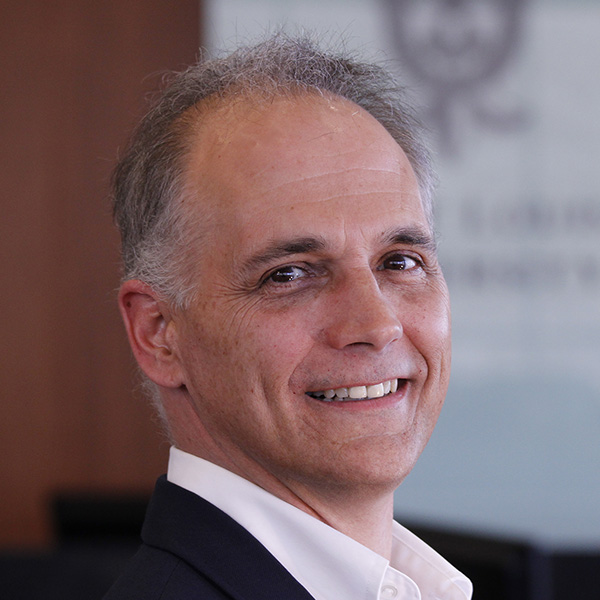 JAMES W. REEVES, J.D., L.L.M | Independent Decision-Maker & Informal Resolution Facilitator
Jim Reeves has been a mediator for over 30 years. He provides mediation, facilitation, and conflict management services to individuals, businesses, and not-for-profit organizations in business and legal disputes, general tort liability, medical malpractice, products liability, condemnation, family business issues, partnership disputes, and general business and commercial disputes. Jim also has expertise convening multi-party processes to resolve legal, organizational, community, and public policy disputes, and has worked as a facilitator in restorative justice processes including victim-offender dialogues and restorative justice circles. Prior to focusing his practice in dispute resolution, Jim was a litigation attorney for 20 years. He has also held executive management positions in corporate and small business environments. He is a Lecturer in Law at Washington University in St. Louis where he teaches several ADR courses, including Negotiation, Mediation Theory & Practice, and Multi-Party and Public Policy Dispute Resolution. He was also an adjunct professor of law at St. Louis University where he taught Civil Practice and Negotiation. He is licensed to practice law in Missouri, Illinois, and Colorado.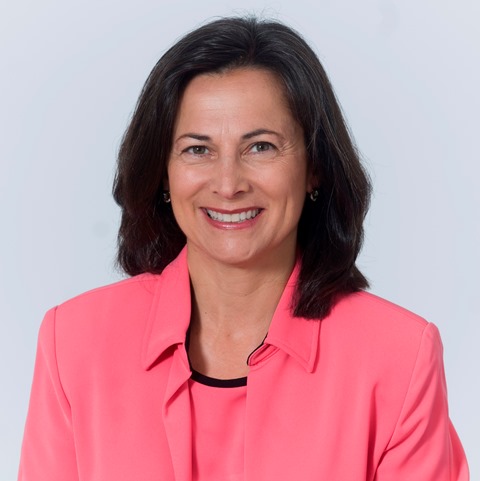 KIM L. KIRN, J.D. | Independent Decision-Maker & Informal Resolution Facilitator
Kim Kirn is a full-time mediator and arbitrator with hundreds of completed cases relating to sexual harassment and employment, education including special education, American with Disabilities Act (ADA), housing, affirmative action and tenure. Kim frequently acts as a fact finder for the Illinois State Universities Civil Service System. Her work with the Civil Service System requires that she act as a mediator to see if resolution is possible before beginning the hearing. This unique experience in conducting mediation-arbitrations, sometimes referred to as Med-Arb can be cost effective and attractive to the parties looking to resolve disputes in one day or less. She mediates disputes through the Missouri Department of Elementary and Secondary Education (DESE); and the Illinois State Board of Education as well as United States Arbitration & Mediation (USA&M); the Greater Gateway Association of Realtors (GGAR); and the Realtor Association of Southwestern Illinois. She arbitrates cases through the American Arbitration Association (AAA); USA&M and the Financial Industries Regulatory Authority (FINRA).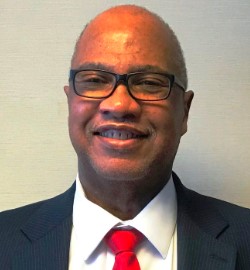 JUDGE MICHAEL T. JAMISON | Independent Decision-Maker & Informal Resolution Facilitator
After 22 years on the bench, the Honorable Michael T. Jamison retired as a Circuit Judge for the State of Missouri. He is a mediator with United States Arbitration & Mediation (USA&M). Judge Jamison is an adjunct professor for St. Louis Community College. He has taught business law, employment law, contracts and administrative law, as well as economics. From 1994 to 1997, he engaged in the corporate practice of law as an Associate General Counsel in the Labor Law Section of the Legal Department of Anheuser-Busch Companies. Prior to then, he was employed as a field attorney, trial specialist with the National Labor Relations Board, where he handled numerous unfair labor practice investigations and litigation.
For group discounts (four or more) or offline invoicing, please contact our Director of Training. 
Regular price: $450.00