PROVIDING PROMPT, THOROUGH, AND IMPARTIAL TITLE IX INVESTIGATIONS
Available On Campus and Virtually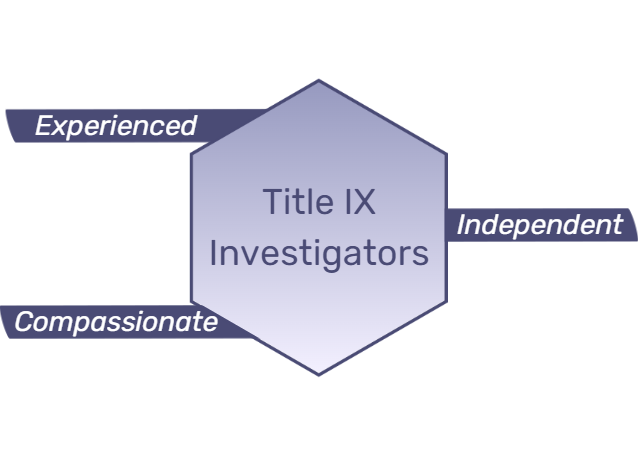 Why outsource Title IX Investigations?
Investigations are the heart of a thorough Title IX process and cannot be taken lightly – entrust your investigation to experienced individuals who have years of experience designing investigations, interviewing witnesses, and writing investigative reports.
An Investigator's ability to remain a neutral fact-finder is critical during the Title IX process, but challenging for small schools and institutions managing high profile or particularly sensitive cases. Outsourcing investigations to our independent investigators assists schools in navigating actual or perceived conflicts of interest and potential biases among internal investigators.
Title IX investigations can be very time-consuming. As many campus-based Investigators wear multiple hats, their ability to dedicate enough time to investigations may seem daunting, overwhelming, or impossible. Title IX Investigators are here to lighten that load and ensure prompt and thorough investigation procedures.
Why Title IX Solutions Investigators?
Title IX Solutions Investigators include former FBI agents, law enforcement officers, and Title IX attorneys. Each Investigator has conducted numerous investigations. They have established internal best practices for interviewing parties, templates for interview summaries and investigative reports, and protocols for sharing confidential information.
Our investigators have the practical skills to conduct a thorough and impartial investigation while remaining sensitive and compassionate. Their capacity to treat all parties with care and understanding for all parties is just as important as their ability craft interview questions and draft reports.
Each Investigator has completed required training under Title IX. They have also attended numerous workshops and trainings about trauma-informed interview techniques, which are crucial to understanding the biological-chemical impact of traumatic experiences, such as sexual assaults, on victims and the consequent effect on their actions during an assault and responses during the investigative process. To remain balanced in their continuing education and practices, Investigators are also trained on the potential impacts of trauma on alleged perpetrators and witnesses as well as empathy-based interviewing. Investigators have also completed training on the intersection of sexual violence and LGBTQ+ communities.
What do our Investigation Services include?
Once introduced to your campus, our professional Title IX investigators leverage best investigation practices and interview techniques to ensure all involved parties in a Title IX case are treated equally with respect, empathy, and neutrality.
Our investigative services are designed to ensure your institution adheres to proper due process. Our Investigators will be assigned to your campus and available for investigations as incidents occur, offering:
On-Campus Investigations:
Conduct interviews with the Complainant, Respondent, and Witnesses (if willing)
Collect physical, virtual, and photographic evidence
Compile an investigation file for the Complainant and Respondent to review
Complete a preliminary and final Title IX investigative report (as required under Title IX)
Testify at a Title IX hearing upon request
Work alongside your campus' Title IX investigator if appropriate
Remote Support for Minor Incidents:
Provide remote support by phone or email for your on-campus investigators or Title IX Coordinator throughout the course of the investigation
Before moving into our investigation services, we suggest meeting with your college's Title IX office to form a comprehensive understanding of your college's knowledge and experience regarding sexual violence on campus.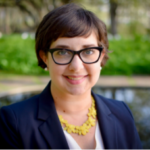 Elizabeth Abdnour
An experienced civil rights and employment attorney, Liz understands how to advocate for underserved clients from a trauma-informed perspective, and has opened her own law and consulting practice where she now serves both individual and institutional clients.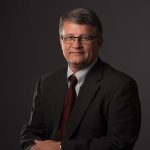 Thomas A. Denton, Jr.
Tom is a retired Chief of Police and career law enforcement officer with over 31 years of public service with municipal, state, and federal law enforcement agencies. He has has been a licensed private detective for over 17 years. Tom has extensive experience investigating child sexual assaults and Title IX violations.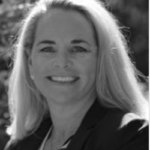 Susanna Murphy, ESQ.
Susanna began work as an independent Title IX advisor and investigator after 20 years of legal experience, first as a trial attorney and then as an investigator, in the criminal justice system. She has testified as an expert witness on Title IX investigations and provided educational prevention programming.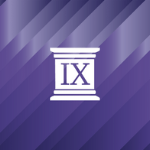 Leo Martinez
A retired Federal Bureau of Investigation Special Agent who served from 1988-2013. He previously held assignments in several FBI Divisions. Additionally, at the FBI Headquarters in Washington D.C., he investigated criminal matters across a wide array of FBI programs and served temporary duty assignments at FBIHQ and internationally.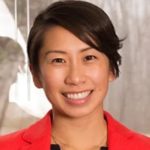 Lin-Chi Wang, J.D.
A professional Title IX Advisor and Investigator, she utilizes her experiences to help individuals, schools, and workplaces bridge civil rights' compliance with humane approaches to achieve outcomes that are not just fair and equitable, but also promote harm reduction and healing, with trauma-informed and culturally appropriate training and thinking.