Policy Audits & Development
BRINGING YOUR INSTITUTION'S POLICY INTO COMPLIANCE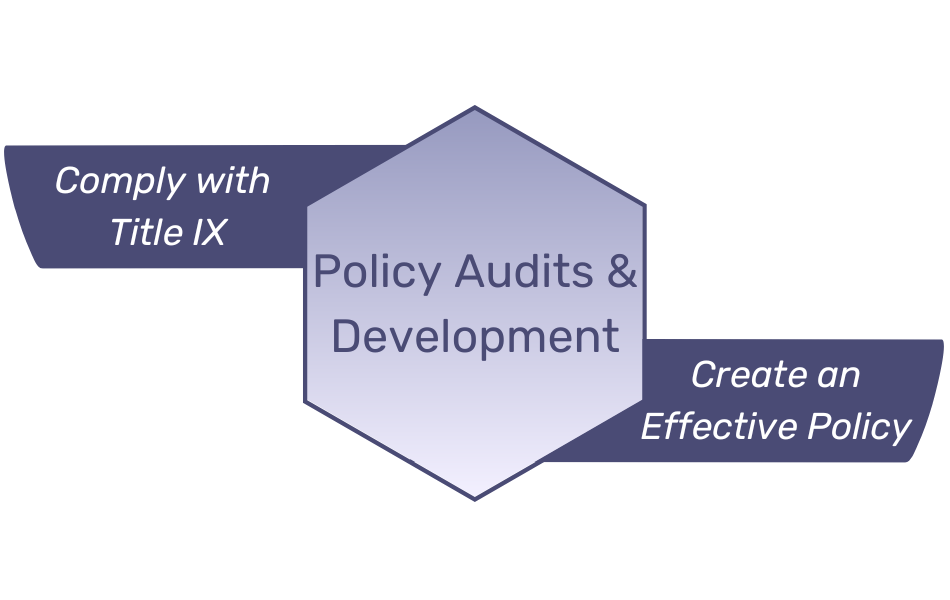 What's required of your institution?
The U.S. Department of Education (DOE) mandates all federally-funded educational institutions, including colleges, universities, trade schools, and K-12 districts, to be in compliance with the latest Title IX Regulations (with the last required to be met by August 14, 2020). Our Title IX experts have experience in developing, auditing, and revising institutional policies to comply with the Title IX regulations while staying aligned with the school's administrative framework.
How do we work with you to
create an effective policy?
Title IX Solutions policy experts take a collaborative approach when developing or revising your institution's policy.
First, we review the current policy and protocols. We then revise documents to include all required elements of the latest Title IX Regulations.
After a draft is completed, our policy experts work directly with the Title IX Coordinator and other administrators to explain required procedures under Title IX and ensure the policy aligns with current administrative frameworks. Ensuring relevant campus stakeholders are included in key conversations and policy development is critical to designing a policy that will make due process possible on campus.
Already revised your policy?
Our policy experts are available to review and audit your school's policy for a minimal fee, ensuring its compliance with the latest Title IX Regulations. At the conclusion of the audit, the school will be provided with broad and specific recommendations for compliance. Title IX Solutions may recomment adopting our complete Title IX policy template, which is available for a flat fee.
We also encourage you to explore our Title IX Training Opportunities to ensure your campus Title IX professionals receive the now federally required training.