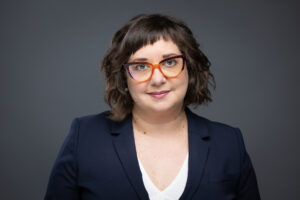 Liz Abdnour is an experienced and client-centered attorney and advocate who has committed her career to working towards justice and equality for students. Liz's legal expertise includes a vast array of education-focused cases, with claims asserted against schools and institutions in the areas of Title IX, educator rights and employment, special education, school discipline, college code of conduct, disability rights, and childhood sexual assault.
For the first eight years of her career, Liz worked as a legal services attorney, representing low-income individuals in Ohio in a variety of civil legal matters. Liz spent two years as the supervising attorney of a domestic violence and protection order clinic jointly operated by a legal aid organization and a law school. Liz then transitioned to working as an institutional equity coordinator and senior investigator at Michigan State University, handling investigations and providing training to the campus community on civil rights and Title IX matters.
 In 2018, Liz launched an education-focused law firm in Lansing, Michigan, Elizabeth Abdnour Law, to fight for justice on behalf of student and educator clients. During this time, Liz assisted hundreds of clients seek justice for violations of their rights by their school, their university or their employer. In 2023, Liz joined Abdnour Weiker as partner to expand the impact of her experience and advocacy, now leading the firm's Title IX and Education Litigation teams in Ohio and Michigan, and in federal courts nationwide.
 Liz also provides investigative, consulting, and training services and is an experienced trainer, writer, and public speaker. The combination of Liz's legal experience and her years as an internal university investigator and administrator at Michigan State University during the height of the Larry Nassar investigation give her unparalleled expertise regarding educational institutions' obligations with respect to civil rights and Title IX response.
 Liz is experienced and especially well-versed in institutional equity and Title IX best practices, investigation processes, party advising, and appeals procedures. Liz can easily identify flaws in institutional systems and policies and can assist with navigating the ever-changing waters of Title IX for students, educators and institutions.
Sexual Violence and LGBTQ Communities Training, RAINN – Rape, Abuse, & Incest National Network
J.D., New York University School of Law
B.A., Michigan State University, James Madison College and the Honors College
Professional Associations
The Firecracker Foundation, Board Member
MI AECRES – Advocating for Every Child's Right to Educational Success, Board Member
S. Representative Elissa Slotkin, District Title IX Advisory Board
Title IX Investigator Training, Hosted by Southwestern Adventist University – Regional Training (August 2023)
Level I: Title IX Investigator Training, Role of the Title IX Investigator (2022)
Stepping Up: Becoming an Effective Advisor, FAQ with Professional Advisors Session (2022)
Title IX in Motion, Plotting the Course: Title IX Investigation Preparation (August 2022), Title IX Solutions, LLC
Title IX and Sex Discrimination in Schools (May 2022), Oakland County Bar Association Employment Law Committee
Title IX – It's Not Just About Athletics. What You Need to Know (April 2022), Co-Facilitator for the Federal Bar Association, New Orleans Chapter
Michigan Special Education Law (February 2022), Co-Facilitator for the National Business Institute
Role of a Title IX Investigator & Investigation Planning & Design – Postsecondary Audience (November 2021), Title IX Solutions, LLC
Role of a Title IX Investigator & Investigation Planning & Design – K-12 Audience (January 2022), Title IX Solutions, LLC
Current Title IX Legal, Social, and Policy Issues in the U.S. and at Michigan State University (April 2021), Dr. Susan Stein-Roggenbuck's Sexual Politics Class at Michigan State University
Title IX Advisor Course: FAQs (March 2021), Title IX Solutions, LLC
Sex Discrimination in Educational Settings: Title IX, Clery, and Other Civil Rights Remedies (August 2020), Michigan Coalition to End Domestic & Sexual Violence and YWCA of Kalamazoo Staff, Lansing, Michigan
Title IX Investigations in the K-8 Settings (March 2020), Co-Facilitator for the Honey Creek Community School Staff, Lansing, Michigan
Title IX Advocacy (October 2019), Co-Facilitator for the Firecracker Foundation New Advocate Training
Cultivating a Culture of Equity (September 2019), Panelist for the Michigan Municipal League Annual Convention, Detroit, Michigan
Diversity, Equity, and Unconscious Bias: How We Create an Inclusive Environment and Employ People Who Represent the Community We Serve in Higher Education and Other Public Entities (June 2019), Co-Facilitator for the American Association for Access, Equity, and Diversity (AAAED) National Conference and Annual Meeting, Indianapolis, Indiana
Sexual Violence and Institutions – Prevention, Policy, and Procedure (June 2019), Guest Lecture for Dessie Clark's Sexual Violence Against Women and Children: Theory and Response Class at Michigan State University