Independent Decision-maker & informal resolution facilitator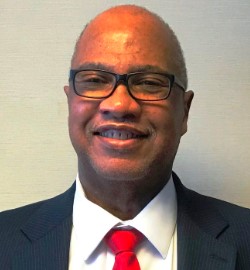 After 22 years on the bench, the Honorable Michael T. Jamison retired as a Circuit Judge for the State of Missouri. He is a mediator with United States Arbitration & Mediation (USA&M). Judge Jamison is an adjunct professor for St. Louis Community College. He has taught business Law, employment Law, contracts and administrative Law, as well as economics.
From 1994 to 1997, he engaged in the corporate practice of law as an Associate General Counsel in the Labor Law Section of the Legal Department of Anheuser-Busch Companies. Prior to then, he was employed as a field attorney, trial specialist with the National Labor Relations Board, where he handled numerous unfair labor practice investigations and litigation.
Judge Jamison was a senior associate with Lashly & Baer, P.C. for two years after leaving the federal government. His practice consisted of labor and employment law, governmental law, and education law on behalf of the St. Louis Public Schools.
He is licensed before the Supreme Court of Missouri and admitted before the Supreme Court of the United States. He has practiced before the National Labor Relations Board, the United States District Courts for the Eastern District of Missouri, and Southern and Central Districts of Illinois.  Mr. Jamison is a member and former President of the Mound City Bar Association.  He is a member of the Missouri Bar, the Bar Association of Metropolitan St. Louis, the St. Louis County Bar and the National Bar Association.  He is a former board member of the Bar Foundation of St. Louis. He is a board member with the Betty Jean Kerr People's Health Centers and a board member of the Northside Youth and Senior Service Center, Inc.  He is a member and former Justice for Phi Alpha Delta, legal fraternity, and was editor of the quarterly law student journal, BALSA Reports.  He has received numerous awards and commendations.
Civil Mediation Training University of Missouri School of Law
Continuum of Sexual Misconduct, Implicit Biases, and Equitable Responses; Rape, Abuse & Incest National Network (RAINN)
Sexual Violence and LGBTQ Communities Training, RAINN
Supplemental Mediation Training for the United States District Court
Title IX & Beyond, Title IX Solutions, LLC
Trauma-Informed Interview Techniques, Thomas Tremblay
USA&M Advanced Mediation Training
J.D., St. Louis University School of Law, 1976
B.A. in Political Science, Washington University, 1973
Professional Associations
Bar Association of Metropolitan St. Louis
Bar Foundation of St. Louis, Former Board Member
Betty Jean Kerr People's Health Centers, Board Member
Mound City Bar Association, Member and Former President
Missouri State Bar
National Bar Association
Northside Youth and Senior Service Center, Inc., Board Member
Phi Alpha Delta, Member and Former Justice
St. Louis County Bar
Stepping Up: Becoming an Effective Advisor, Title IX Hearings Expert Analysis Session (2022)
Uncharted Territory: Navigating Live Hearings (August 2022), Co-Presenter for Virtual Conference Title IX in Motion, Title IX Solutions, LLC
K-12 Decision-Maker Training: Drafting the Determination (March 2022), Title IX Solutions, LLC
Facilitating Hearings with Confidence (August 2021), Title IX Solutions, LLC
Title IX Advisor Course: Participating in the Title IX Hearing (March 2021), Title IX Solutions, LLC