Independent decision-maker & informal resolution facilitator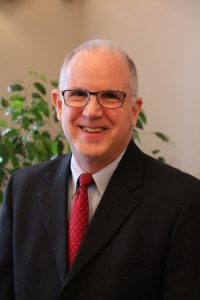 Ken Chackes has extensive experience as a mediator and hearing officer. Ken served as a mediator in over 175 cases over the last 20 years, primarily in the areas of education, employment and civil rights. He also served as a hearing officer in numerous contested education cases, involving students in elementary and secondary schools.
Ken is a qualified mediator and hearing officer for the Missouri Department of Elementary and Secondary Education. He is also a mediator for the U.S. Equal Employment Opportunity Commission; the U.S. District Court, Eastern District of Missouri; and the Circuit Courts for the City and County of St. Louis. Ken has significant litigation experience, specializing in sexual abuse, education law, employment discrimination, disability law, civil rights, and other civil matters.
His involvement under Title IX includes having served as a hearing officer in four cases, three of which the parties resolved their differences in informal resolution following the prehearing conference, and also having served as an appellate officer in two other cases. Ken also has been a frequent speaker and author regarding legal rights and civil litigation for numerous community organizations and professional organizations.
Civil Rights Investigator – Level One, ATIXA
Forensic Child Interviewing, International Association of Chiefs of Police (IACP)
Violence Against Women Act (VAWA)
Sexual Violence and LGBTQ Communities Training, Rape, Abuse & Incest National Network (RAINN)
Trauma-Informed Interview Techniques, Thomas Tremblay
Continuum of Sexual Misconduct, Implicit Biases, and Equitable Responses, RAINN
Title IX & Beyond, Title IX Solutions, LLC
USA&M Advanced Mediator Training (2017, 2019)
National Academy for IDEA Administrative Law Judges and Hearing Officers, Seattle University School of Law (2005)
Member of Training Faculty for Master Class in Civil Mediation, Washington University School of Law (2004)
Two-Day Civil Mediation Training, Washington University School of Law (2004)
Mediation Training for Civil Cases, University of Missouri School of Law (1999)
Full-time Visiting Assistant Professor, Washington University School of Law (1984-1988)

Taught Trial Practice, Pre-Trial Practice and Procedure (Including Settlement Negotiations and ADR) and in the Civil Litigation Clinic
 J.D., St. Louis University School of Law, cum laude, 1976
B.A. in Psychology, Tulane University, 1971
Level I: Title IX Decision-Maker Training, Evaluating Policy Violations (2023)
Stepping Up: Becoming an Effective Advisor, Title IX Hearings-Expert Analysis Session (2022)
Laying the Groundwork: The Importance of Pre-Hearing Strategizing (August 2022), Co-Presenter for Title IX in Motion, a Virtual Conference by Title IX Solutions, LLC
Title IX Advisor Course: Preparing for a Title IX Hearing (March 2021), Title IX Solutions, LLC
K-12 Decision-Maker Training: Reviewing the Investigation Report & File, Crafting Questions for Parties, and the Appeal Process (March 2022), Title IX Solutions, LLC
Ken has also been a frequent speaker and author regarding legal rights and civil litigation for numerous community organizations and professional organizations including:
American Bar Association
Bar Association of Metropolitan St. Louis
Eighth Circuit Judicial Conferences
Legal Services Attorney Training Programs in Missouri and Illinois
Missouri Bar Association
Louis University School of Law
University of Missouri-Kansas City School of Law
Washington University School of Law